Chiswick councillors slam 'madness' of starting when Hammersmith Bridge is shut

Artist's impression of superhighway looking west from Olympia
Local councillors in Chiswick have said it is "absolute madness" to start work at a time when there is severe disruption due to the closure of Hammersmith Bridge.
Cycleway 9 aims to provide a continuous, largely-segregated route between Kensington Olympia and Brentford town centre, via Hammersmith and Chiswick. However, a starting date for work on roads in Hammersmith has still to be announced.
TfL say the work will start in December with the main construction work around junctions to take place over the Christmas holiday period, to minimise the effect on local roads. The transport company has also promised an extensive communications campaign to alert local people and encourage alternative routes to be used.
The nine Chiswick conservative councillors have slammed the idea saying Kew Bridge junction is already more congested with over 2,000 additional vehicles a day since Hammersmith Bridge was closed. Chiswick Bridge is seeing an extra 6,500 vehicles a day for the same reason.
Following our sister site ChiswickW4.com's request for a comment from TfL, Nick Fairholme, TfL's Director of Project and Programme Delivery, said: "This new cycle route will significantly reduce road danger in west London through junction improvements, new pedestrian crossings and segregated cycle provision between Olympia and Brentford, which will enable many more people in the area to get around more safely on foot and by bike.
"Work on the route around Kew Bridge is planned to start in December and the main construction work to improve junction safety is planned to take place during the Christmas holidays, when roads are quieter, to minimise the impact on local roads.
"We will run an extensive communications campaign to ensure that people in the area are aware of construction work and to encourage people to use alternative routes wherever possible. We'll also monitor traffic signals in the area and will adjust timings where necessary to minimise traffic disruption."
This stretch includes Chiswick High Road between Chiswick roundabout and Kew Bridge, the South Circular/A205, which is part of the TfL road network.
Councillor Jo Biddolph said;"It is hard to think of a more absurd decision than this. It's winter and the wet, cold weather will undoubtedly slow down progress. Residents in Chiswick, and Brentford, can be sure they will see the route and Kew Bridge severely restricted, therefore even more congested and polluting, but with no one working because of winter weather conditions. The disruption will be pointless. "
Cllr Patrick Barr said; "It is absolutely madness to start this construction...while Hammersmith Bridge is closed. This will have a severe knock-on effect and subsequent impact on the already present traffic chaos in and around Chiswick.
"On that note, we still await an update on traffic mitigation for Chiswick following a visit by Heidi Alexander, Deputy Mayor of London for Transport, and TfL traffic planners earlier this year to witness the traffic chaos in Chiswick as a result of the closure of Hammersmith Bridge, and discuss traffic mitigation for Chiswick.
"We were promised this would be looked into in September 2019, when the school year started, for an accurate picture of the problem and steps to solutions. I have still to receive an update, despite having chased Transport for London."
Councillor Sam Hearn said, "TfL's decision to proceed immediately with these high-impact and time consuming road works beggars belief. TfL management appears to be living in some kind of parallel universe that is not inhabited by real people. There can be no justification for starting this work whilst the closure of Hammersmith Bridge is still causing such serious traffic problems throughout the Chiswick area."
The stretch includes Chiswick High Road between Chiswick roundabout and Kew Bridge, the South Circular/A205, which is part of the TfL road network. There will be consequences for the western section of Chiswick High Road/A315, Ellesmere Road/Great West Road/A4; the North Circular/A406, Strand on the Green, Brentford High Street/A315 and for accessing and leaving the M4 in both directions, as well nearby roads including in Surrey Crescent, Stile Hall Gardens, Wellesley Road, Strand on the Green, on the junction and beyond on Brentford High Street near Kew Bridge.
Leader of Hounslow Council, Cllr Steve Curran (Labour) has hit back, accusing the Conservatives of 'shameless electioneering'.
"Cllr Joanna Biddolph, Leader of the minority Conservative Group in Hounslow, is using the council's approval of Cycleway 9 as a cynical attempt to divert attention from the Tory party candidate for Brentford and Isleworth, Seena Shah's position on Brexit.
"Cllr Biddolph is now using the temporary closure of Ha mmersmith Bridge as an excuse to try to stop Cycleway 9.
"I would have hoped, Cllr Biddolph and her colleagues would be more worried about air quality and pollution. The Labour Group and the Council have already signed up to the Climate Emergency and we are committed to do everything we possibly can to improve air quality in the Borough, especially for young people and children. It's a shame Cllr Biddolph doesn't appear to share that view, she is more concerned about traffic congestion in Chiswick High Road."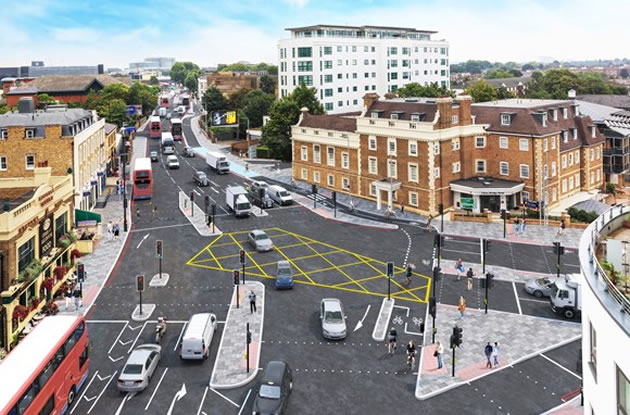 November 19, 2019