Contract awarded to build replacement and 205 new flats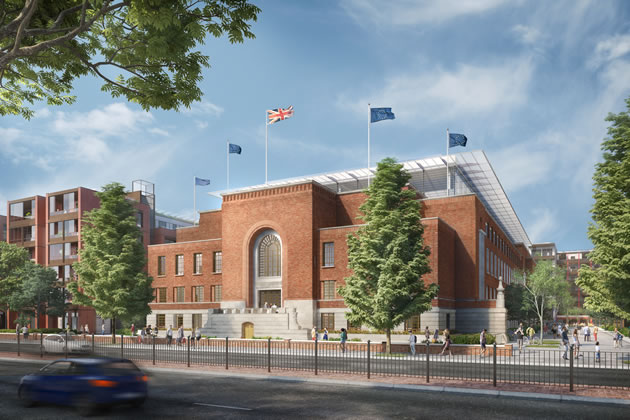 Design for the replacement Hammersmith Town Hall. Picture: Hammersmith & Fulham Counci
Plans to redevelop Hammersmith and Fulham Council's Town Hall and surrounding buildings have taken a step closer.
Ardmore Construction has won the £155 million contract to build the scheme, which will also include 205 new flats and the council's offices extended to create over 15,000 square metres of office space.
The development also includes another 10,000 square metres of office space which will be let commercially, and a new four-screen cinema built facing King Street.
The council is splitting the costs of the work with housing association A2Dominion, and the two have formed a 50:50 joint venture.
Whilst preserving the grade II-listed interior of the Town Hall, a huge "glass box" extension will be built with an enclosed courtyard beneath it.
The glass box will be perched on 15-metre-high stilts, and supported with 1,300 tonnes of structural steel.
"We are excited to take on the delivery of West King Street," said Cormac Byrne, managing director of Ardmore, which is also redeveloping parts of Battersea Power Station.
"We're looking forward to working closely with the Council, A2Dominion and local residents to deliver a truly landmark scheme that will help transform Hammersmith for generations to come."

Hammersmith Town Hall Extension currently undergoing demolition
The council's office staff were relocated to the Shortlands building in Hammersmith Road in late 2019.
The wider redevelopment of West King Street will include:
Construction of six-storey residential block with an element of affordable office space at ground floor
A seven-storey office block with restaurant and four-screen cinema in its basement
A seven-storey residential block of affordable tenure with ground floor commercial units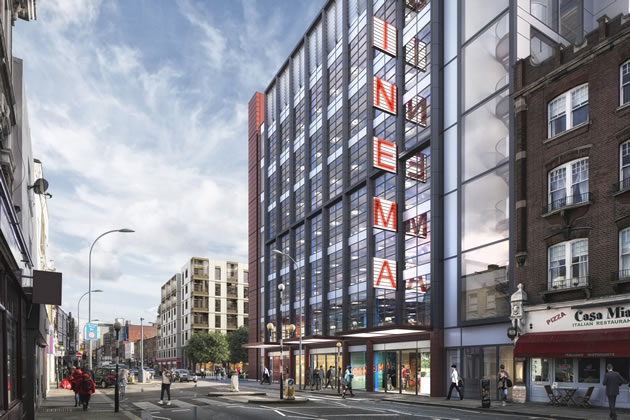 The street view of the designs new four-screen cinema at Hammersmith Town Hall
Much of the council's share of the £155 million bill will be paid for with borrowing.
The council's joint venture with A2Dominion was agreed in early 2019 and planning permission was approved in October of that year.

Owen Sheppard - Local Democracy Reporter
February 12, 2021