Four arrested in H&F over last week by unit tackling moped enabled crime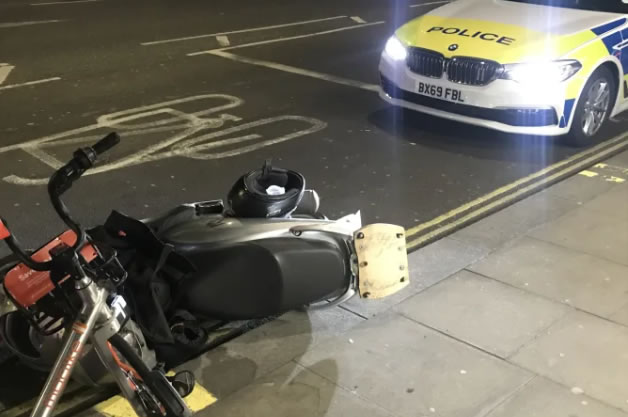 On Tuesday, 31 March at 4pm, an officer on a marked motorcycle spotted a moped driving at speed through Hammersmith & Fulham.
A vehicle check revealed the moped had no insurance so it was stopped on Franklin Square, on the West Kensington Estate in W14.

The driver, aged in his 20s, was searched and was found to be in possession of around 17 bags of cannabis and £130 in cash. Officers also found a number of mobile phones.

Further checks showed the suspect was disqualified from driving. He was arrested for possession with intent to supply a Class B drug, driving without valid insurance and driving while disqualified.

The rider was charged in the early hours of Wednesday, 1 April with possession with intent to supply cannabis, disqualified driving and driving without insurance and was remanded in custody to appear at Westminster Magistrates Court the same day.
After appearing in court he was released on bail and will n aext appear at Isleworth crown Court on the 29 April.
This arrest follows two in the previous week. On Sunday 29 March at 6.05pm, a man reported that he had his motorbike taken from him in Kirchen Road, West Ealing. He told officers that a car pulled up and the occupants got out and threatened him with baseball bats and a knife before one of them rode off on the moped.

He had taken the registration plate and officers attached to Operation Venice, the Met taskforce dedicated to tackling moped theft and moped related crime, utilised ANPR technology, to track the car down in Fulham around an hour later. The police managed to box the car in on Pearscroft Road in Fulham, so avoiding the need for a pursuit.
Police cars box in suspect's vehicle on Pearscroft Road
Two men, both aged 21, were removed from the car and arrested on suspicion of robbery. One of the men was further arrested for possession of an offensive weapon after a lock knife was found on him. Both remain in custody.
The stolen moped has yet to be located.
On Thursday, 26 March, a 25 year-old man was taken into custody after being pursued and caught by police on Hammersmith Road.
He was first observed on Ladbroke Grove on a scooter that had previously failed to stop for police. He was pursued by officers on motorcycles and in cars while he attempted to flee at speed sometimes using pavements and driving dangerously throughout.
Tactical contact was used by officers from the Met's Operation Venice team bringing the pursuit to a safe conclusion near the Olympia Exhibition Centre and the junction with North End Road.
The rider ran into a nearby housing estate and a helicopter from the National Police Air Service was called along with a Dog Support Unit. He was located hiding in a bush and tried to flee again but was soon caught.
He has been taken into custody at a central London police station.
Sergeant Tony McGovern, of Operation Venice, said: " With colleagues across the Met, Operation Venice will continue to identify and pursue those intent on committing brazen and violent crimes on the streets of London."
April 3, 2020